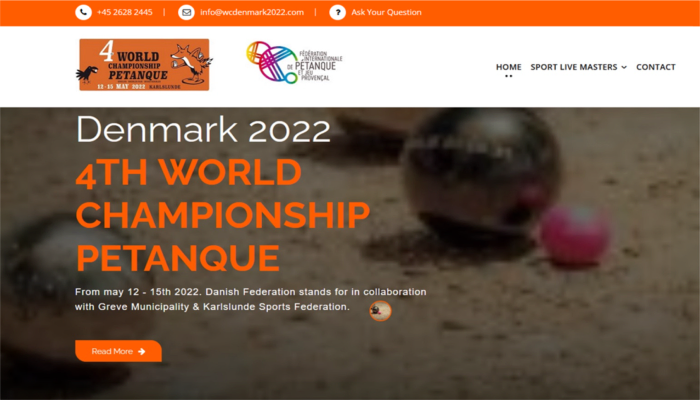 The next World Championships for Individuals - Men's & Women's Doubles will be held from 12 to 15 May 2022 in Karlslunde, Denmark. A website https://www.wcdenmark2022.com will soon be online where you will find all the information about this world event organised by the Danish Petanque Federation in collaboration with the municipality of Greve and the Karlslunde Sports Federation.
---
The Oceania Championships 2022 will take place in Tahiti (French Polynesia) from 26 September to 29 September 2022 - all information & details (registration, accommodation etc.) will be sent to the affiliated federations.
---
World Championship in Benin from 08 to 11 December 2022 postponed to September 2023

Countries qualified at the last Oceanias in Melbourne:
- Polynesia Tahiti - New Caledonia - New Zealand. They will represent Oceania at the next World Championships for Men's Triplettes & Precision Shooting postponed to September 2023 in Cotonou (Benin). These three countries could not travel to Spain to participate in the last World Championship in Santa Susanna (November 2021) due to health restrictions in their respective countries.
---
Forecast Calendar 2023
Singles, doubles (women and men) and mixed doubles: 10 to 13 September in Cotonou (Benin)
Triplets and men's precision shooting: 14 to 17 September in Cotonou (Benin) with the International Congress on the morning of the 14th.
These dates may be changed by one day to allow the teams to return on Sunday evening
Women's and Youth (Triplettes and Precision Shooting): 23-26 November in Bangkok Thailand.